Eye Exams for Albertans
Eye exams are an essential part of preventative healthcare. Regularly seeing your optometrist can help protect your health and sight, whether you wear corrective lenses or have 20/20 vision.
Before you book your next appointment, it can help to know what to expect, including your health care coverage. So, what is covered for adult, senior, and children's eye exams in Alberta?
Alberta Eye Exams by Age
The Alberta Health Care Insurance Plan (AHCIP) partially covers select optometry services. Additionally, some select services are fully covered. Notably, Alberta Health Care covers optometry services in Alberta. For example, an Albertan having an eye exam in Ontario is not covered by AHCIP.
Ages 0-18
Alberta Health Care's annual coverage for children under 18 includes:
Some additional exams or treatments may be covered when medically necessary. However, most additional eye exams are not covered.
Children should have their first eye exam between 6-9 months and at least one eye exam between ages 2-5. Once the child reaches school age, they should receive annual eye exams. Additionally, the Alberta Association of Optometrists' Eye See . . . Eye Learn program ensures every kindergarten-aged child is provided with a free pair of glasses (when required).
Comprehensive eye care is beneficial for visual development and academic performance. 1 in 4 school-aged children has vision problems. With 80% of a child's learning based on vision, receiving eye care support is crucial for their life-long success.
Ages 19-64
Alberta Health Care does not cover routine eye exams for adults between 19–64. However, the AHCIP will cover medically necessary services, including optical services related to injury, trauma, or medical condition.
The provincial health care program also excludes vision care for refractive laser eye surgery, eyeglasses, and contact lenses.
Many Albertans also have insurance coverage through an employer or their personal medical plan. Patients can talk to their eye care provider about eye exam costs to determine if services are fully or partially covered.
Ages 65+
Alberta Health Care benefits for seniors include:
One partial exam
One diagnostic procedure
Alberta Health Care may also cover additional exams or treatments when medically necessary. Some common eye problems in seniors that may receive full or partial coverage for follow-up care include:
Seniors with low to moderate incomes may be eligible for additional benefits under the Dental and Optical Assistance for Seniors Program. The program can benefit seniors who need corrective eyeglasses (frames and lenses) or contact lenses, as the program will contribute up to $230 towards glasses every three years.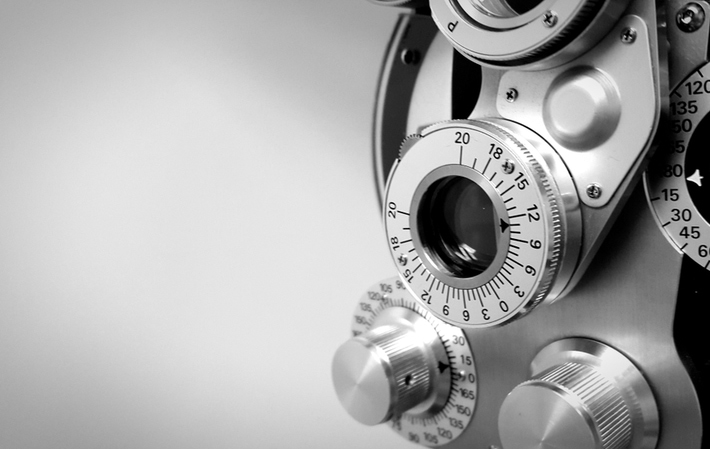 Comprehensive Eye Exams in Alberta
Alberta Health Care coverage for ages 0–18 and 65+ considers a comprehensive eye exam separate from a partial exam. But what's the difference?
A comprehensive eye exam is like a physical, as optometrists evaluate the visual system—sight and eye health—during the appointment. A partial exam is similar to a checkup with your family doctor. The scope of the eye exam is limited to a particular issue or concern.
Some tests included in a covered comprehensive eye exam include:
What Is Medically Necessary Eye Care?
The Alberta Health Care Insurance Plan (AHCIP) covers medically necessary optical services, but what does that include? Albertans' health care benefits consider when an exam or service relates to eye disease, medical condition, or trauma. Examples include:
Diabetic Eye Exams in Alberta
AHCIP does not cover routine eye exams, but Alberta Health Care covers diabetic eye exams. Diabetes can have multiple health effects, including damaging blood vessels in the eye. Over 9 million Albertans live with diabetes or pre-diabetes.
Over time, diabetes causes changes in the retina, leading to vision loss. Diabetic eye disease includes diabetic retinopathy, diabetic macular edema, cataracts, and glaucoma.
Testing during the appointment usually includes:
All Albertans with diabetes should have an annual diabetic eye exam. When it's time to schedule your exam, call your optometrist and inform them you'd like to have a diabetic eye health exam. Optometrists in Alberta are qualified to perform any medically necessary optical services, including diabetic eye exams.
Book Your Alberta Eye Exam
We're committed to providing the best possible eye care for our patients, including discussing eye care concerns. Talk to our team about your eye exams, and we can help you understand what to expect during your next visit.
Book an appointment with Eye Care Group in Edmonton and St. Albert.