The time between your comprehensive exams varies by age and eye health. But your eyeglasses prescription is typically valid for 2 years, according to the Canadian Association of Optometrists (CAO). But what does that mean for you if you want to switch to contact lenses—do you need an additional eye exam, or can you simply use the same prescription?
The prescriptions between eyeglasses and contact lenses are different.
Most eye doctors offer a specific contact lens exam and fitting, which can determine if you are a candidate for contact lenses. Your eye doctor also takes particular eye measurements to get you the best-fitting contact lenses possible.
Fortunately, this contact lens exam is similar to a comprehensive eye exam in a few ways, and in many cases, the exams can be combined in the same appointment.
What Is a Comprehensive Eye Exam
We recommend that our patients receive a comprehensive eye exam every years, depending on their age, current eye health, and eye health history. These exams are not simply to determine how well a person can see.
When examining their eyes, the eye doctor considers their patient's family and personal medical history. With a clear view of your medical history, the eye doctor can maximize their chances of diagnosing a problem, such as glaucoma or other eye diseases, early.
During a comprehensive eye exam, your eye doctor can also determine your prescription to correct any refractive errors they may find. This prescription is typically valid for 2 years, and you should be able to obtain a copy of it for your records. But do not rush out to buy contact lenses yet!
How Are Contact Lens Fittings & Exams Different?
A contact lens exam will check for a few things covered during a comprehensive exam. For example, the eye doctor will check your visual acuity and determine whether you have any refractive errors that need correcting.
Typically, your eye doctor will not spend much time looking for signs of specific diseases, though. The expectation is that this is usually done during the comprehensive eye exam. Eye doctors are trained professionals who may notice signs of trouble even when not explicitly looking for them.
During a contact lens exam, your eye doctor will typically perform additional tests to confirm the health of your cornea. They will also usually take specific measurements of the curvature of the cornea and pupil. This helps them recommend a contact lens for your eye because not all lenses are equal.
If you struggle with dry eyes, your eye doctor may take some extra time to investigate that because chronic dry eye disease can sometimes prevent contact lens wear or limit the types of contact lenses you can use.
One thing to note is that if you contact their clinic ahead of time, your optometrist can often combine these 2 appointments into one.
How Often Do You Need a Contact Lens Exam?
Like your eyeglasses prescription, the CAO says it is valid for a maximum of 2 years. So, if you have passed this, you should book an appointment with your optometrist to have it updated—even if there is no noticeable change.
An important thing to remember is that many suppliers—online or in-store—will not sell you new contact lenses without a valid prescription.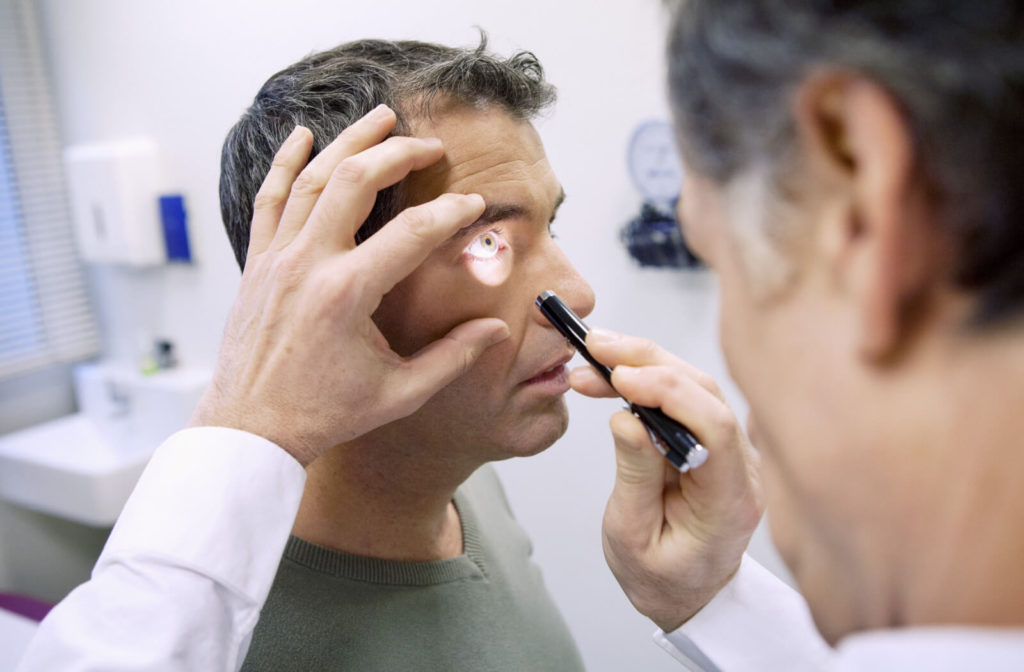 Can You Get Contacts Without an Eye Exam?
In most cases, you cannot even purchase lenses without a prescription. But some less reputable retailers may sell you contact lenses without a valid contact lens prescription. It is not advised to go this route. It is important to remember that contacts are not one-size-fits-all. Certain things can go wrong with improperly fitted lenses, from infection to discomfort.
A best-case scenario if ordering contact lenses without a prescription would be some minor discomfort and an over or under-correction. The difference in distance to the eye between contacts and eyeglasses means a different strength is needed to achieve the same correction.
But in more serious cases, you could risk experiencing extreme discomfort or inability to wear the lenses due to a condition like dry eye or an abnormally shaped cornea that requires a specialty contact lens. Plus, poorly fitted lenses can increase the risk of serious infection.
Discuss Contact Lenses with Our Eye Doctors Today
If you are interested in ditching your specs, give us a call at the Eye Care Group. Our professional team can answer your questions about getting a contact lens fitting and exam, so you and the optometrist can discuss your options.
Even if you already wear contacts, getting your eyes checked is a good idea if you begin experiencing discomfort while wearing them.