Myopia, also known as short-sightedness or nearsightedness, is a common vision problem that affects a growing number of children and young adults worldwide.
This condition is characterised by the inability to see objects in the distance clearly, while objects up close remain in focus. Myopia not only affects one's ability to see, but it also increases the risk of serious, sight-threatening eye diseases if left untreated.
The rate of myopia in children is increasing and it is progressing faster and developing earlier. and parents are looking for solutions for their child's vision. Unfortunately, there is currently no way to reverse myopia, but there are ways to slow its progression.
It is important to have regular eye exams so that your optometrist can detect myopia early, and develop a plan that works best for you or your child.
What Is Myopia?
Myopia is a vision problem where a person can see things close to them clearly but objects far away are blurry. This happens when the shape of the eye causes light to refract incorrectly, causing it to focus before reaching the retina rather than at the retina.
Myopia not only causes blurry distance vision, but it also increases the risk of serious, sight-threatening eye diseases if left untreated such as glaucoma, cataracts, and retinal eye diseases.
What Causes Myopia?
Some potential causes of myopia include:
Genetics
Prolonged hours of close-vision tasks or detailed work
Health Issues such as diabetes
Prolonged Screen Time
Identifying Myopia in Children
In children, it can be difficult to identify myopia as they may not understand what the world should look like or they may not realise something is wrong with their vision. Parents can look out for signs such as:
Sitting too close to televisions or computers
Squinting
Covering an eye to see
Rubbing their eyes
Complaining about headaches
Expressing frustration in class about not being able to see the front of the room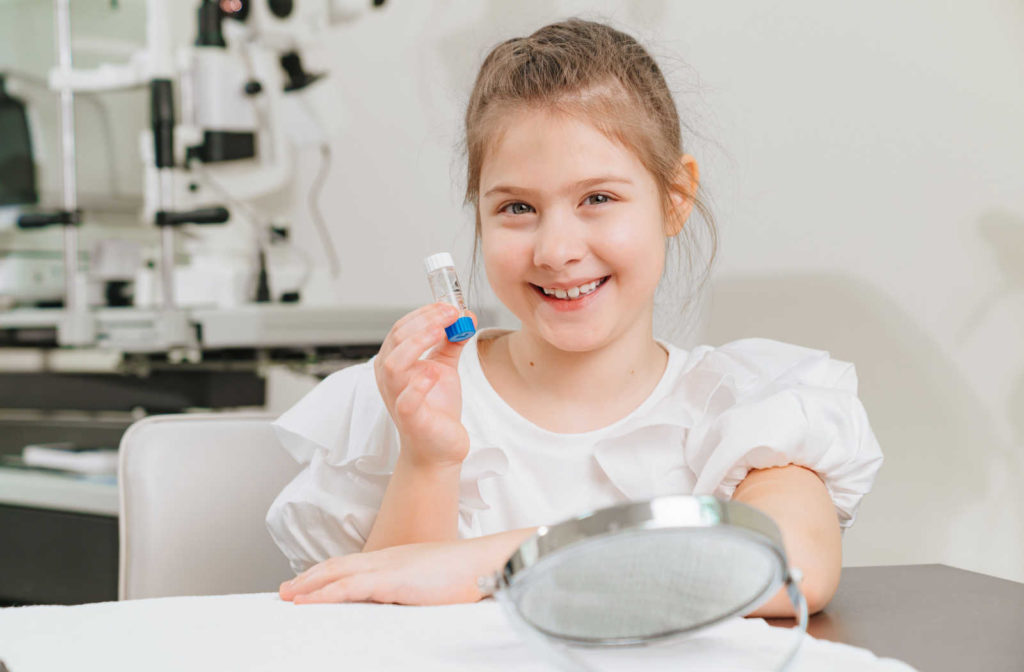 How to Slow the Progression of Myopia
To slow myopia progression, various methods can be used such as:
Specialty contact lenses
Atropine eye drops
Prescription glasses
Spending more time outdoors
Specialty Contact Lenses
MiSight contact lenses are daily-disposable, dual-focus contact lenses that provide children with clear vision while signalling the eye to slow down its growth.
Orthokeratology is a vision correction technique that involves changing the shape of the cornea temporarily with progressively flatter hard contact lenses.
Atropine Eye Drops
Traditionally, high-dose atropine drops have been used to dilate the pupil during an eye exam. However, recent studies have shown that low-dose atropine drops given over 2–3 years can be effective in slowing myopia progression.
The exact reason why atropine slows myopia progression is not fully understood, but it is believed to be related to its ability to reduce the amount of focusing effort the eye needs to do.
Atropine eye drops are considered to be a safe and effective treatment for myopia in children, but it does have some potential side effects. The most common side effects include:
Temporary blurred vision
Light sensitivity
It is important to consult with an eye doctor to determine if atropine eye drops are the right treatment option for your child.
Prescription Glasses
Multifocal eyeglasses for myopia are a more comfortable option for children who have difficulty handling contact lenses or who may not be good candidates for them.
Multifocal glasses, also known as progressive glasses or no-line bifocals, are a type of eyeglasses that can be used to slow the progression of myopia in children. These glasses have multiple prescriptions built into them, with different prescriptions for distance vision, intermediate vision, and near vision.
This allows the wearer to see clearly at all distances, reducing the amount of focusing effort the eye needs to do and slowing down the eye growth which is related to myopia progression.
Spending More Time Outdoors
Spending more time outdoors has been shown to be beneficial in slowing the progression of myopia in children. The exact reason why outdoor time slows myopia progression is not fully understood, but it is believed to be related to exposure to natural light and the associated changes in the eye's focus.
To take advantage of the protective effects of outdoor time, parents and caregivers should encourage children to spend more time outside. This can include activities such as:
Playing sports
Going for walks
Visiting parks
It is also recommended to limit time spent on electronic devices and other close-up activities when indoors.
Ask Your Optometrist for Help with Myopia
If you suspect that you or a family member may have myopia, it is important to book an appointment with your eye doctor to check for symptoms and take action to prevent or slow its progression.
By monitoring your eye health and taking steps to address myopia, you can help to protect you or your child's vision and maintain clear sight for years to come.